WE ARE THE BEST SERVICE PROVIDER IN THE FIELD OF MINING, RAISING, SCREENING & TRANSPORTING. We use latest and developed machines and equipments to increase the efficiency level.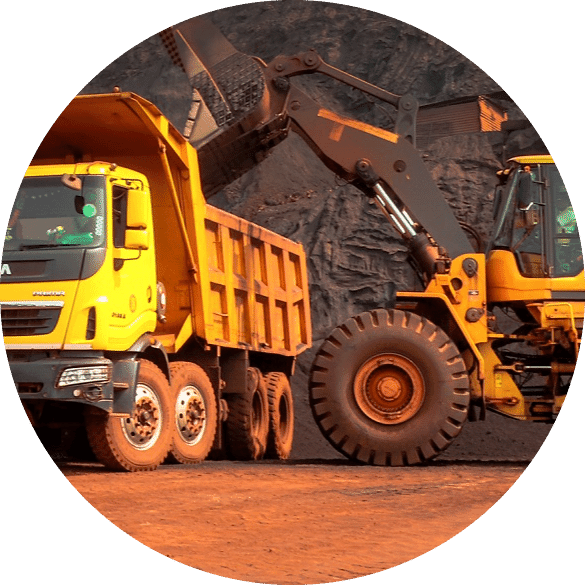 MINING & CRUSHING
Welcome to M/S N.K. Minerals, a reputed mining and crushing company based in Odisha. In 2011, we had established the unit, and today we are a highly renowned mining and crushing company in the country. Backed by a vast experience in raising, crushing, excavation, transportation. Our company has deployed excavators, crushing plant, dozers, screening plant, hyva, tippers, etc. in various projects. These apart, we have also rented and leased out different kinds of mining and crushing equipment. Through responsible mining and crushing services, we believe we can create a stronger bussiness and value. N K Minerals Pvt Ltd is the best service provider in O.B. Handling & Raising (Drilling, Blasting, Excavation, Screening & Crushing of Iron Ore). Dispatch of materials from mines to railway sidings are done by National Transport a partnership firm of N K MINERALS GROUP. Now we are handling 5.5 Million Ton of ore excluding O.B. per year by our heavy machinery with expert manpower in M/s. Kaypee Enterprises (Thakurani Iron Ore Mines).
Our Mission
To create and grow sustainable value for our stakeholders by discovering and processing minerals and energy resources for the use of society through the application of best practices in mining and our commitment on protecting the health and well being of our employees and the environment .
Our Vision
To be An active participant and contribute to the economic reform and global competitiveness in the mining sector and also be one of the recognized and respected mining company that grows with an aim of sustainable production, environmental conversation and delivering  on our commitments and also valuing and developing our partner communities, employees and other stakeholders.
Safety
We are committed to protect the Health and Safety of our employees, our environment and community at all times and under all circumstances.
Experience
Right from its inception, N k minerals has been a key player in the mining industry.
Management
The driving force behind N k minerals has been an extremely earnest and committed management team.
Professional
With a professional in-house team, we can get solutions for best in class mining productivity.
Reliable
We take pride in delivering our set target on time.
Assets
We respect our assets and with world class mining equipment.we respect our assets and with world class mining equipments we are always ready for our next challenge.
BUSINESS CODE OF CONDUCT & ETHICS
The company expects a high level of personal integrity for each employee & director while dealing with auditors,suppliers & other employees.
True and Fair Financial Statements are maintained by employees.
Company ensures compliance with all rules and regulations set up by Government.
Company believes in giving equal opportunity to all employees.
Engagement of employees in any kind of manipulation, concealment, abuse of privileged information , misrepresentation of material facts or any other unfair business practice , will be punishable.
Any kind of business solution or consultation don't hesitate to contact.